Without Emanuel Reynoso, MNUFC finding out how the other half lives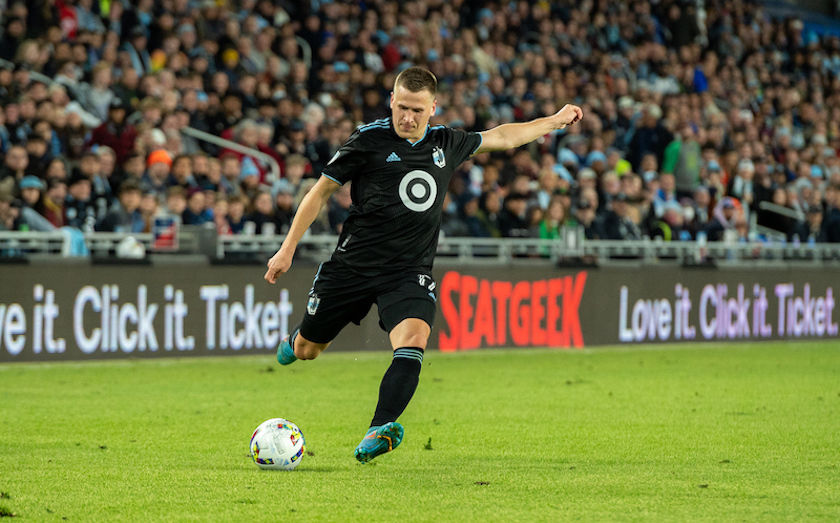 It's easy to say that Minnesota United is a different team without Emanuel Reynoso in the lineup. After four games, though, we're seeing just how different, and how the team has changed its methods.
What we've discovered is that, rather successfully, Minnesota United has become Burnley FC.
Burnley, back in the second division this year, gained a reputation in England for their, shall we say, pragmatic approach to the game. Blessed with no riches and no stars, the Clarets would line up behind the ball, try to get in some passing lanes, and should they win the ball, hoof it hopefully into the path of a counter-attacker.
It sounds awful, and sometimes it was, but the team also once finished seventh in the Premier League with the strategy, and stayed in the top flight for six years while the deck was continuously stacked against them.
In 2022, the Loons were pretty reliably in the middle third of MLS in just about every possession and passing number. Touches, progressive carries, number of times someone attempted to dribble past a defender - the Minnesota team, as a whole, were middle of the pack.
This was almost entirely due to Reynoso, who was near the top of the charts in just about every possession statistic. He led the league in dribbles, was third in progressive carries, third in carries into the final third, second in through-balls, and ninth in passes that lead to a shot. They were the numbers you would expect from an old-school number 10, an attacking midfielder with the ball eternally at his feet.
Without Reynoso this season, though, all of those numbers have cratered. Minnesota has the lowest possession percentage in the league, having the ball just 41.8% of the time. No team has fewer touches in the attacking third, per game. No team has fewer progressive carries, or has dribbled the ball less. The Loons have attempted fewer passes per game than every team but high-press aficionados New York and St. Louis.
Not surprisingly, this means that Minnesota's opponents are spending seemingly the entire game on the ball. Loons opponents have the most touches per game and the most passes attempted per game.
So how, then, have the Loons picked up eight points in four games?
First, they're doing well at preventing shots on target, though it's a matter of debate how much of that is due to Vancouver repeatedly endangering spectators behind the goal, instead of troubling Clint Irwin. Minnesota has allowed 3.25 shots on target per match, good for the seventh-best number in the league, despite conceding so much possession.
Second, this seemingly-always profligate team has actually converted its chances this season. Minnesota is second-last in the league in shots per game, last in shots on target per game, and last in expected goals per game, but has managed to find the net four times anyway - not a huge number, but ahead of their expected pace.
More to the point, it was really only the Vancouver game where the Loons were not mostly in control, and they were missing seven players on international duty in that one, so hanging on by their fingernails was a legitimate strategy. They've won the expected goals battle in three of their first four games, though that includes a bump for being awarded a penalty against Colorado. In both road games, they held the opponent under one expected goal.
The real question is whether Burnley-ball is a sustainable strategy. "Having less talent than the opponent" is not a long-term plan, but to be fair to Minnesota, this is not their plan; they're still hoping to bring Reynoso back this year, and they just went out and got young forward Sang Bin Jeong, who could be in the lineup as soon as this weekend in St. Louis.
For the short term, though, there are worse plans. Holding on to the ball is pointless if you're not planning to - or able to - do anything with it, as Burnley learned. Better to invite teams forward, which creates space behind them, and try to scramble through for counter-attacks and set-pieces on the other end.
It's not an approach that lends itself to highlight reels and warm, appreciative applause from the stands. But if it's executed well, like the Loons are doing, it can lead to points. And as Minnesota tries to bridge the gap without the player that used to drive them forward, it's as good of a strategy as any.