MNUFC, we need to talk about Dayne St. Clair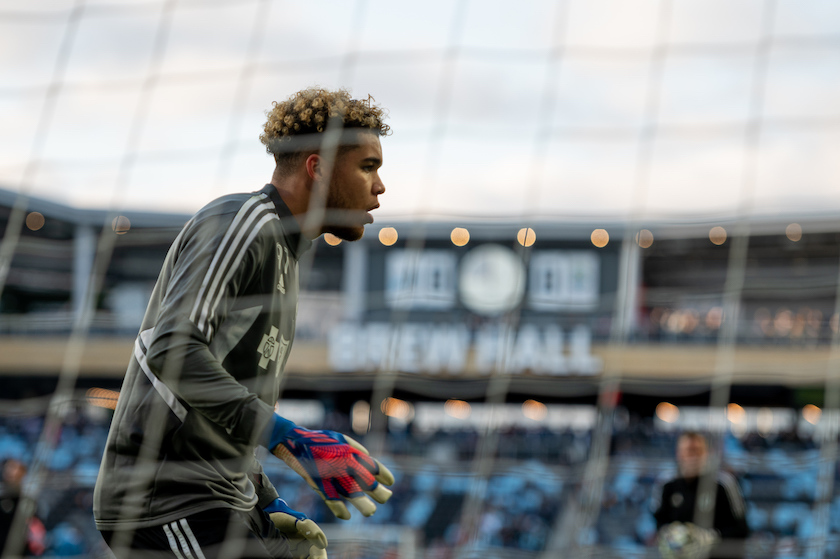 When Minnesota United goalkeeper Dayne St. Clair was going good - and he was never going better than mid-season last year when he made the MLS All-Star Team - his scouting report was pretty clear.
He's not a great distributor. He doesn't really command the penalty area, preferring to stay on his line. He's not much of a sweeper-keeper, nor is he especially good with the ball at his feet… but man, he sure can stop some shots.
Halfway through last year, that shot-stopping ability was carrying him to one of the best goalkeeper seasons in MLS history. The numbers put him in the upper echelon of MLS keepers, up there with Djordje Petrovic and Andre Blake and other, better-known goalkeeper names. He slid a bit in the second half, but by almost any measure, he was still a top-10 keeper for the season.
Now, the 2023 season is one-third over, and we can no longer lean on "well, it's a small sample size" as an excuse, and so we're forced to reckon with what the numbers are telling us for 2023, and we need to ask ourselves an uncomfortable question.
Is Dayne St. Clair currently the worst goalkeeper in MLS?
Just as the numbers were clear about how good St. Clair was last season, especially in the first half, they're equally unkind to him this season.
According to American Soccer Analysis, St. Clair has allowed 5.48 goals more than expected, a number so bad it's an outlier; no other keeper in MLS is above 2.5.

Also from ASA's "Goals Added" metric, his shot-stopping has been so bad that it - by itself - has cost MNUFC five goals this season, compared to the average keeper in the league.

FBRef says that St. Clair has the worst save percentage of any qualified keeper in MLS, stopping just 56.7% of the shots on target he's faced this year.

FBRef also says that, looking purely at post-shot expected goals, St. Clair is four goals worse than expected - again, a number that's an outlier, twice as bad as the second-worst keeper in the league.
For some context here, in 2021, when LAFC's goalkeeping was so bad that they missed the playoffs and ended up dumping a Brinks Truck on Vancouver to get Maxime Crepeau, just to get back somewhere closer to average, the LAFC keepers combined had a 57.1% save percentage. So 56.7% is a "spend a million bucks on a goalkeeper" kind of number.
Again, the shocking thing here is just how bad things have gotten with St. Clair's shot-stopping, given that this was his strength in 2022. Again using the Goals Added metric from ASA, St. Clair's shot-stopping alone was worth four goals above average in 2022. To have that boomerang back around to costing them five goals, in just a third of the 2023 season, is astonishing.
If MNUFC has a hope here, it's that St. Clair has always been a streaky keeper. I've reviewed his history a thousand times in print, but he had an exceptional run to end 2020, one that earned him the starting job in 2021; a terrible start in 2021, bad enough that he lost the net to Tyler Miller and never got it back for the rest of the year; and such an amazing start, filling in for an unavailable Miller early in 2022, that he kept his name on the team sheet for all of last season, and saw the team let Miller go for nothing in the winter.
And so, as fast as things turned for the worse, for St. Clair, perhaps they can turn for the better. After all, the MNUFC defense isn't bad this year. FBRef says they've allowed 1.23 non-penalty expected goals per game this year, ASA slightly fewer; both of them put the defense squarely in the middle of the MLS pack this season. On a game-by-game basis, except for the two track meets against Vancouver, the Loons defense hasn't conceded more than 1.4 xG in a game this year, and has held opponents under one expected goal in seven out of the 11 games.
Add in some of the red-hot version of St. Clair's shot-stopping, and Minnesota could have the defensive foundation that they need to survive… until they can kick-start their offense.
Right now, though, the numbers are pretty clear: the Loons need a lot more between the pipes.