Ranking the first five years for every Gopher men's hockey coach, using science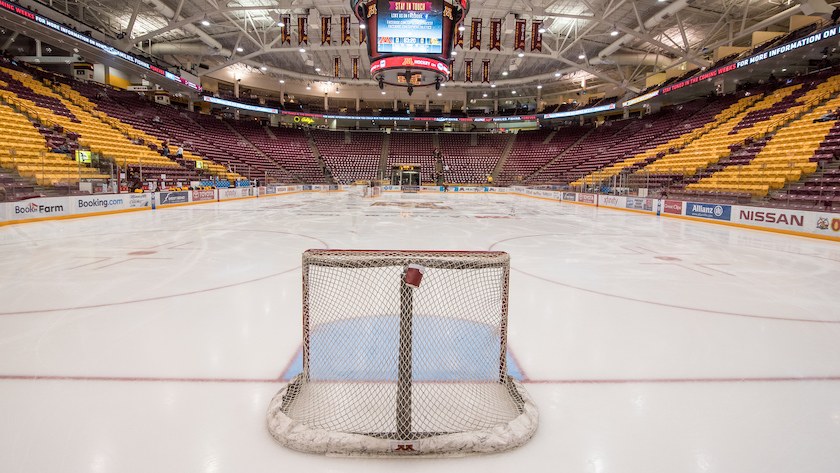 It's the fifth year of Bob Motzko's tenure as the head coach of the Gopher men's hockey team, and the second consecutive in which Minnesota has won the Big Ten championship and reached the Frozen Four.
This seems pretty good, all things considered, but we need something a little more scientific to determine just where he ranks in the pantheon of Gopher coaches. Luckily, we've got just such a scientific system, which I just made up, but which I consider to be better than any other system ever designed to rank the first five years of every Gopher men's hockey coach's tenure (subject to further review of the literature). Here it is.
The Gopher Hockey Coaching Point System
Winning a national championship: 10 points.
Banners hang forever, unless Jan Gangelhoff is involved. There's a reason any Gopher men's hockey fan worth his or her salt can rattle off the national-title years, and bore you to death talking about whether the AAU title in 1940 should also count.
Reaching the national title game, but losing: 4 points.
Tiebreaker goes to hitting the pipe in overtime, so Randy Skarda is like the wild card here.
Reaching the Frozen Four but losing in the semifinals: 3 points.
The Gophers have made the Frozen Four 23 times, 14 of those coming after the tournament expanded and they had to actually win some playoff games to get there. Memories are made in the playoffs, so even though single-elimination is a silly way of running a national hockey tournament, this gets serious points.
Making the NCAA tournament: 0 points.
Fair or unfair, there are no participation trophies in Gopher hockey.
Missing the NCAA tournament (after expansion): -1 point.
There are 16 teams in this thing now, and like 60 college hockey teams total, most of which are anonymous schools somewhere in New York or Connecticut. You're telling me you can't compete? Get out of here. (Please note that this does not apply before the tournament expanded to 8 teams in 1981… nor does it apply for 2020, when no NCAA tournament was held because of COVID-19.)
Winning a conference championship: 5 points.
Some years this is a harder achievement than winning the national title. Winning both of them certainly is hard to do, given that the Gophers have never won an NCAA Tournament and a conference title in the same season.
Winning the conference tournament: 2 points.
Most of the time the main benefit of winning the conference tournament is making sure that nobody else wins the conference tournament. (Note: between 1966 and 1976, and again from 1978 to 1981, there was a West champion and an East champion in the WCHA conference tournament. Therefore, these count for a single point instead of two.)
Losing regular-season record: -3 points.
Everybody who's had this job before you had pretty much no trouble with this ever. You getting distracted? Watching too much Netflix? What's the problem here?
The Rankings
Disqualified (not enough years)
Ken Yackel Sr, Marsh Ryman. Each only coached a single season.
Disqualified (barely counts):
I.D. MacDonald, Emil Iverson, Frank Pond, Larry Armstrong, Doc Romnes. Apart from sounding like a group of characters in a detective novel, before John Mariucci arrived in 1952, the Gophers played about eight games a year, some of which were against teams like "Fort Snelling," or made-up, still-fictional universities like "Carleton." I'm not counting these guys in the rankings, not even if you try to tell me that Carleton is a real school and you've been there.
7. Glen Somnor, 5 points
Somnor later made a name for himself as a radio color commentator that always sounded like he was having a heart attack, such was his excitement, and as a Gopher hockey supporter who would do things like going to games while accidentally forgetting to turn off his his car. Because of this, he was beloved, but he won only won the conference once and the conference tournament once, lost his only appearance in the national title game, and had two losing records in his first five years.
6: John Mariucci, 15 points.
Our totally and completely scientific system has ruined Mariucci's chances. In his day, there were only four teams in the NCAA tournament, two in the West, two in the East. The Gophers were in the fledgling WIHL, which had no conference tournament, and which disbanded in 1958 because Denver, Colorado College, and North Dakota wouldn't stop recruiting 24-year-old Canadians who'd finished playing minor hockey.
Mariucci still managed to win the conference twice and reach the NCAA title game twice in his first five years, but he also had a losing record once.
4 (tie). Brad Buetow, 17 points.
The lost coach in Gopher history, who took over for Herb Brooks and was replaced by Doug Woog, and is thus destined to be remembered as "that guy who was between Brooks and Wooger." Buetow won two conference titles, two conference tournaments, and made the Frozen Four twice and the title game once, but he also missed the NCAA tournament twice as well, an uneven first five years.
4 (tie). Bob Motzko, 17 points (note: record still incomplete).
Two conference titles and two trips to the Frozen Four is a decent record for his first five seasons, but he'll need some national success this year to vault up the rankings. Could get to 23 points with a national title this season.
2 (tie). Doug Woog and Don Lucia, 23 points.
It's kind of amazing how they ended up tied, given that they had pretty much opposite five-year periods to begin their tenures.
Woog was a model of consistency over his first five seasons, with two conference titles, five NCAA appearances, three trips to the Frozen Four, and that one aforementioned overtime pipe in the 1989 title game. His teams were always excellent, but couldn't win the big one - which ends up being the way we remember his tenure overall. (Amazingly, his Gophers teams also lost the finals of the WCHA Tournament in four of his first five years.)
Lucia, meanwhile, didn't win a conference title in his first five years and missed the NCAA tournament once, but also won two national titles and two WCHA conference tournaments. It must also be said that when you add up his record, it's kind of ridiculous - eight conference titles, four conference tournaments, 13 NCAA appearances, and five Frozen Fours including those two titles and another runner-up appearance… but the fact that he "only" won those two national championships in 19 years seems like it means that he's remembered a different way.
Anyway, as mentioned, Randy Skarda is the tiebreaker, so technically Woog is alone in second place.
1. Herb Brooks, 26 points.
Brooks had the most up-and-down first five years of any Gopher coach. He won two national titles, reached another title game, won the conference title, and won the conference tournament three times - but he also had a losing record in both years that he didn't reach the national championship game. Those three seasons between 1973-1976 might never be topped for a three-year run, though - six championships in three seasons, plus a national runner-up banner.
---
So there you have it. Thanks to science, we can tell you that Herb Brooks had the best first five years of any Gopher men's hockey coach, and that Bob Motzko will have to win the national title this season to move into a tie for second place with Doug Woog and Don Lucia. It's nice that we can settle these things with math.
Final side note: I also ran the numbers for Laura Halldorson and Brad Frost, the two coaches in Gopher women's hockey history. I started Halldorson in 1999-2000, the first year there was both a WCHA conference and an NCAA tournament, even though she also coached in 1997-98 and 1998-99. Halldorson tallied 39 points, Frost 30. So the two best coaches in Gopher hockey history through their first five years are Laura Halldorson and Brad Frost.